About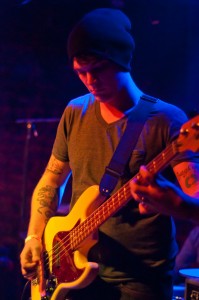 The Happenstance is an event that lasted from 2004 – 2014. This web site is maintained for historical purposes. We appreciate all of the support we received from the local Atlanta music scene.
The Happenstance is an annual music event in Atlanta, Georgia. We select 30 musicians, make them meet us early in the morning at a local rock club, randomly divide them into 5 piece bands, and send them off to create a 20 minute set of music which they will perform that evening. It's thoroughly entertaining, entirely random, and more than a little bit insane. Oh yeah, it's for a good cause. Past charities include The Atlanta Community Food Bank, Habitat for Humanity and The New Orleans Musicians Hurricane Relief Fund.
Started in 2004, The Happenstance is organized by Brian Fletcher, Jeff Holt and Kevin Wallace, with assistance from other members of the Atlanta music community. To contact us, please use this form.
Come watch some of the best independent musicians in Atlanta create something unique, fun, and for a great cause.
To learn more about the logistics of the event, check out our Frequently Asked Questions.
You can also listen to past year performances in their entirety here: thehappenstance.podomatic.com